I had such a great time this afternoon at Catherine Schuller's Runway The Real Way Fashion Brunch Mad Hatter Tea Party at Super Nova Novotel in Times Square. I'll be posting more about the event, but I had to do a quick blog about a great surprise I had.
So I'm watching one of the great runway shows and I see the models wearing these amazing blinged-out sunglasses. Hmmm… I think to myself, those look like the sunglasses Sofia Davis wears. Sure enough, when the show is over, Catherine brings out Sofia to talk about her glasses that were featured in the show.
If you spend time around the New York/New Jersey fashion scene, you know the legendary Sofia Davis, Editor-in-Chief of Fashion Avenue News, a luxury brand best known for its namesake magazine. The fabulous Ms. Davis is often found sitting front row center at many of the best fashion events in the area and is known as a major taste maker on the scene. Her trademark bling sunglasses are as fabulous and distinctive as she is.
And now she's selling her own collection! After seeing them on the runway I spoke with her after the show and was able to buy one of her sunglasses on the spot! Here's an amazing photo of me with Sofia and supermodel Avadora Mimouni. Is this photo fabulous?! Yaaaaasssssssss!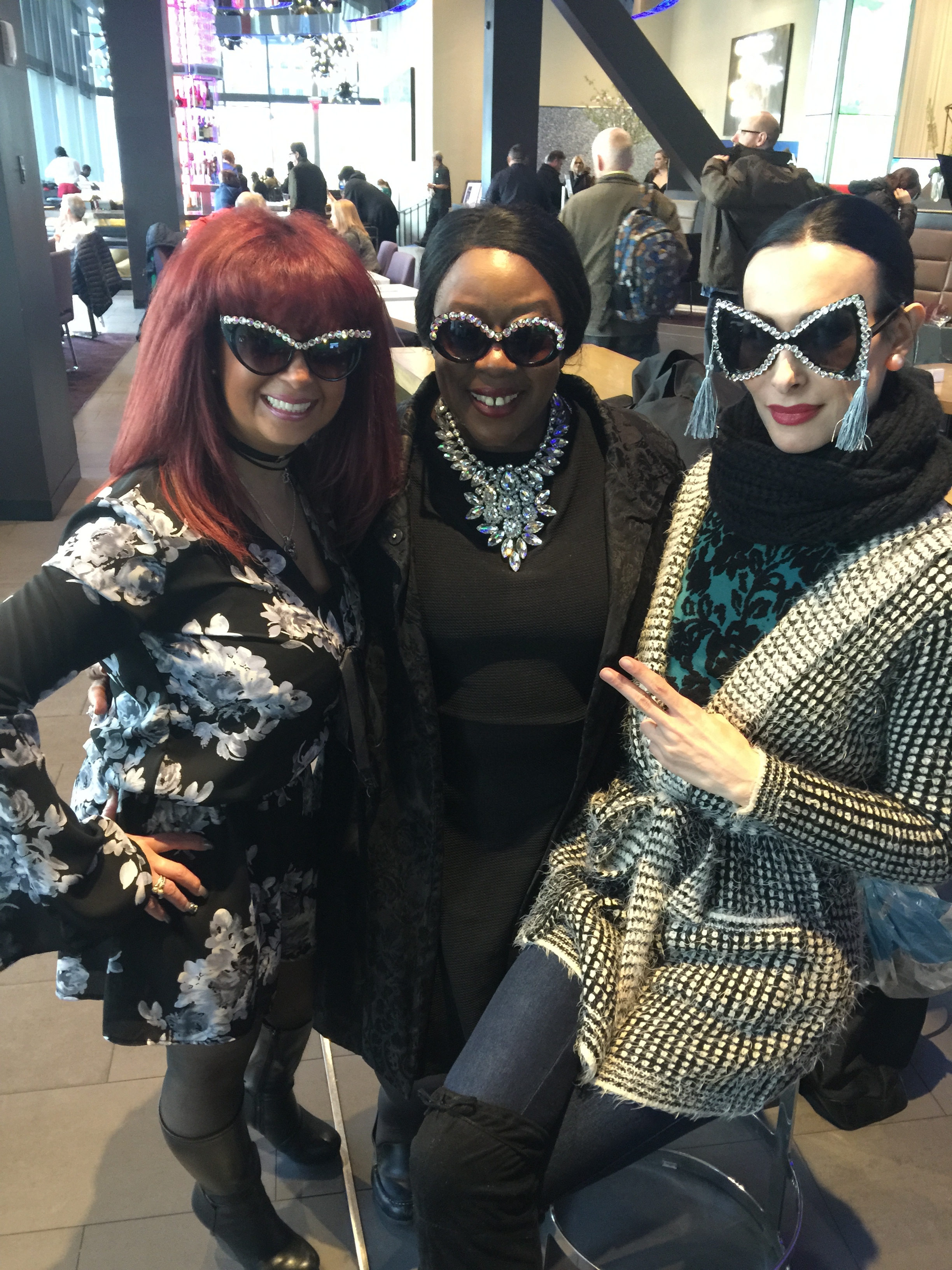 Sofia said, "I'm so excited to be showing my Bling Darling Couture Sunglass collection at Catherine's event. People have really taken to the Bling and I'm honored to be invited to participate in so many shows, with fabulous couture designers such as Conrad Booker."
Yes, Conrad is one of my favorites as well!
Want your own Bling Darling Couture Sunglasses by Sofia Davis? Watch for them on the runway this spring and summer, and you can buy them online now at www.etsy.com/shop/BlingDarling!
Catherine Schuller's Fashion Brunches are becoming amazing showcases to discover talented new designers, so check them out monthly and join us!